So on the 28th of September was the Maros Mountain Bike Marathon. The 2nd edition of this race, but on special new location. The Apuseni Moutains, near Cluj, the city where I live.
But everything started wrong... The week before the race was cold, raining and so on... Due to some old medical issues I didn't had the perfect training week so I was pretty tired, but I was hoping for a good result.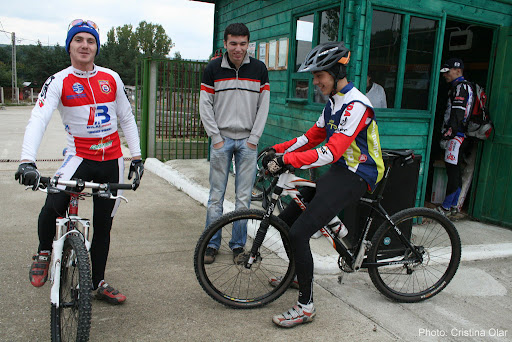 <- Here I am with Razvan Juganaru (Jughi) and Sebi the day before the race after a short ride. I guess that the organizers talked with someone for a sunny day on the race day and so it was ... Cold but sunny day.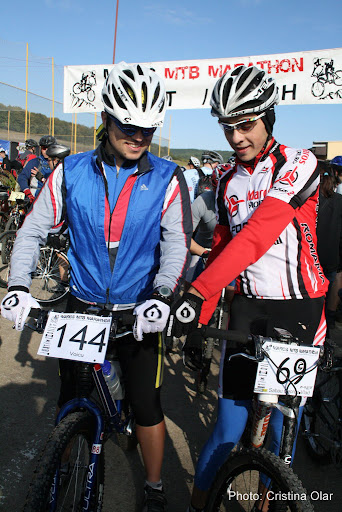 <- Voicu and me. Both of us with: Cannondale bikes, Met Helmets, Continental Tires, Selle Italia Saddles, Sapim spokes, Xpedo Pedals, VDO cycle computers, Kool Stop pads, 661 gloves, Syntace posts and handle bars ... We both choose only the best !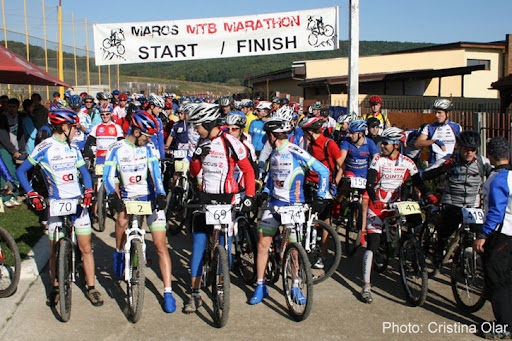 <- Here, next to me is Cioc another biker riding Cannondale !
So the race started very well. I was in front in the first kilometers. After that a few riders pushed out the pace but I didn't try to get them. It was only the start. After the first climb, I was almost 2 minutes behind them, but a 9km downhill was coming. I knew the course so for me was pretty simple. I pushed it in the corners as hard as I could, because I wasn't worry that I can loose my grip with my Continental Speed King 2.3 Supersonic tires.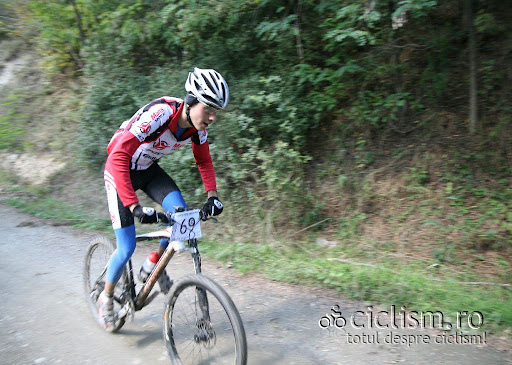 I won a few seconds on the descend and after something like 2 km of road we started the hardest climb on the race: in 3,5 km we had to climb 750 meters. There I started to feel dizzy, but I thought that with some water and a gel everything will go ok. Another long, fast and technical downhill section got me near the leading riders, but there was my last good moment. After that on the last climb, a pretty long one, I lost the power, I was feeling much dizzy and I couldn't push the pedals even if I didn't felt my legs tired.
I lost there 3 positions and even if I push it to the limit on the last descend wasn't enough to improve my result, so I've finished on a disappointing 5th place. Disappointing for me at least.
Another reason for this failure was this year schedule... I didn't respected all my recovery plans and the fatigue was installed in my body. What I need now is a break from the races at least until the Cluj Winter Race. I'll try to recover, I'll get my bike o trails, but I'll eat and sleep well and try prepare the next season. I prepare for the next season because in Romania there are no races left until the Winter Race in December.
I'll try to get over it and I will think for the upcoming season. I am still motivated to ride the bike, to race as good as I can and to promote the bicycle trend in my circle of friends but also to let them know about my sponsors.
So for this race I want to congratulate the organizers for what they have done. I would like to thanks my parents for being there at the finish supporting me even if I crossed the finish line and I was more dead than alive, I would like to thanks Simona for supporting me and motivating me, I would like to thanks to all my sponsors for offering me the opportunity to race with their amazing products, I would like to thanks to Gabee for training me and also to apologize that I didn't respected his recovery program and also to thanks to all my friends that are behind me and support me in this.
Thank you very much too all of you.
Please check also the marathon web page:
Maros MTB Marathon
Here is one of the news that appeared on the tv:
Realitatea TV @ Maros MTB Marathon
You can see me in their movie, but also you can see Eli, one of my best friends, and the one that tried so hard that this event to be the best in Romania.
On
Sport.Realitatea.net
you can see another article from the race, but also from
CityNews.
You can see my whole gallery of photos from this race
HERE
With this occasion I would like to thanks to all the photographers from the course.
I'll keep you updated guys.
Push the pedal hard until the winter is here.
Regards,
Vlad