As the other riders I find out Monday in the afternoon that on the next day Vointa Club is organizing a race, that was officially programed on the 12th of October but delayed due to some unknown reasons. (But until now I didn't heard about MTB race on Tuesday)
So I go in the morning at the school and after that I come home and prepare for this 'race'. I won't tell how many riders were at the race (because it was Tuesday every one was at school or work). I also won't tell you about how the course was organized (was not a private race, so what do you expect?
Our luck was that we knew the course from the

WINTER RACE), but I can tell you that I've enjoyed the time with my
team mates. I also won "this" Regional Championships at U23 (second at Men Elite) but is not something that I can very proud because there weren't all the riders here... I am also happy with the money prize that I got it (bigger than the prize at the National Championships and National Cup).
We also had a few unusual spectators :-))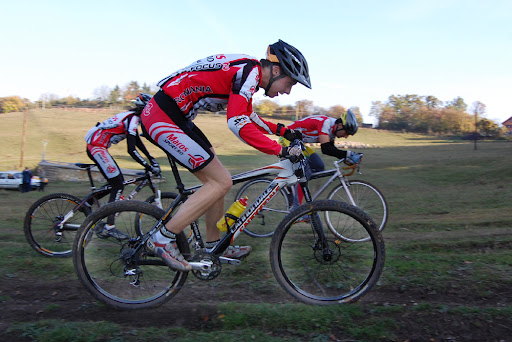 I'm happy that I had a good riding day. Now I am resting pretty much and am making a training plan for the next season.
I would like to say a big thank you to Mihai for the photos.
See you on the trails (until it gets colder)

The whole photo gallery from this event can be found

here



PS I've updated the gallery from the Maros MTB Marathon. Please

CHECK

it out.

Regards,
Vlad