This was the first marathon race in Romania this year. That's because the Ciuc Marathon was canceled... don't ask me why.
We got in Medias Friday evening with my team and our sponsor Maros Tudor, but the action started Saturday at 10:30 when was the start of the race. I was very optimistic, because I was feeling pretty well.
After a few kilometers a group of 3 riders, decided to escape. It wasn't a big problem because the race was long and I had the time to get back to them. And so it was. Got back in front and I was leading the race confidently... until I saw my tire ... I had a flat ... my 'luck' was that the air got out pretty slow and I had the time to run like that on the road section (about 5 km). I let the group that was chasing me to catch me and I've stayed behind them preparing my Co2 pump and resting, because I knew that I have to stop and to inflate the tire. I was worried not to get the tire off the rim, but I got it. I managed to reach the last check point. I've stopped and I've fixed the tire (just inflated it), after that I prayed to stay inflated till the end of the race. The 20-30 seconds that I've lost repairing the tire were regain pretty soon. After I got back in front with Bogdanescu Laurentiu (from Lugoj), I tried to rest a bit and not to force to run, because I knew that he can't pass me on the last descend or at the sprint.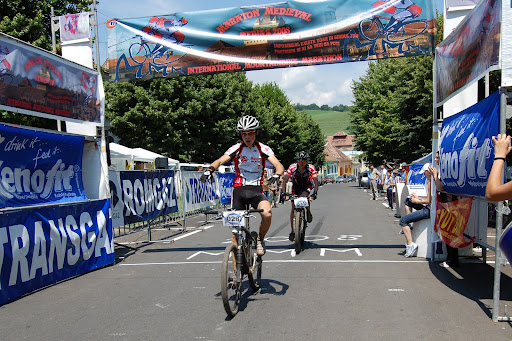 So we got together in Medias and he tried to run 2 or 3 times. I didn't let him and when I saw the finish line (about 300m) I've pushed myself to the limit and won the final sprint.
This was my first victory with a sprint and I am very happy about it. I am also happy for the way I was riding, gaining confidence and motivation. My training is going pretty well (thankx to my coach
Gabee
)and I hope for the National championships to get a medal, or at least points for racing in the World Cup from Schladming. Now I just need a few days to rest, sleep and eat well. What I am still sorry s that I didn't make it
I would like also to say a big thank you to the team sponsor Maros Tudor (from
MarosSport
), to the guys from
Cannondale
,
Met
,
Continental,
Selle Italia
,
Xpedo
,
Sapim
,
Syntace
,
VDO
and to the rest of my sponsors and collaborators for the great race material and motivation that they are offering me . I would also like to thanks to my parents and Simona for the extra motivation.

I have new photos from the others race and I'll post them soon. I'll let you know also. When I'll get more photos from Medias, I'll post them too.

Thank you once again and ride hard.