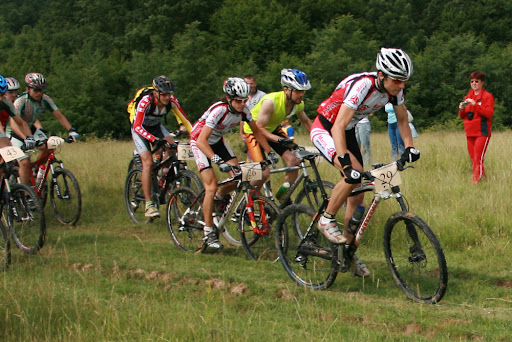 Me and my team decided to go the last week end at Lugoj, to race at the Concordia Cup. We arrived there pretty late, so I couldn't see the course before the race. I say that I couldn't see the course because the rest of my team mates race there 2 years ago and they remember it. I didn't saw this as a problem.
I had a fast start, and after that I let my mates to go in front of me to know what will come. In the first lap a chain problem made me to loose a few seconds, but I got them back until the second lap. Then I continued the race with my team mate Tudor (at that moment Eli, another team mate was leading the race), until the last lap, when the chain felt off the crank and he won about 100 meters. I pushed so hard to get him but it was impossible so I managed to finish 3rd (1st in the U23 Category).
Anyway for me is pretty good, because I can see a big progress in my training and I feel really strong, but here the muddy conditions made the course a bit difficult and I felt 3 times (2 of them were in deep mud :D ). I can say also that the course was pretty technical on the muddy descends and hard climbs on grass.
I am also happy because me and my team conquered all the podium place (well... the first 5 places).
I need too adjust a few things and I hope that for the National Championships to get a medal.
I also would like to say a big thank you to all my sponsors for making possible everything, at my family and friends for the support.
The rest of the album you can see it
here
and I'll be happy if you'll visit it !
Usually I don't fall, or I don't have photos when I fall of my bike, but this is an exception, so I'll post the picture.
And here is the Elite podium