In the 6th number of the bike magazine MBike, is an article for the new Cannondale brothers: Rize and Moto. The presentation contains information about them and the new technologies used.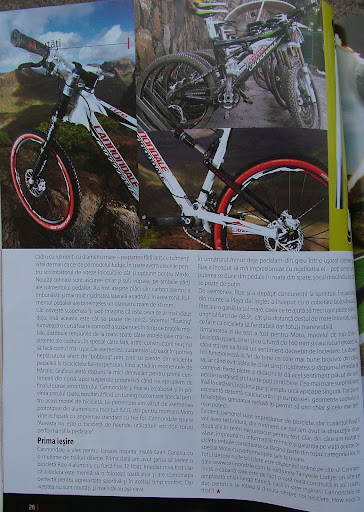 The MOTO
On the face of it, mountain bike designs change very little. But on the face of a mountain, yesterday's pedestrian, boring designs can make or break the quality of a ride. Which means the ideal bike is one that's light and nimble enough to ride on single-track, with the burly qualities of a big mountain rig. Cannondale's MOTO showcases revolutionary technologies that shave weight and boost strength. It's an all-new breed of mountain bike that's so versatile it defies categorization.
At the
MOTO
one of the technologies used is the
HATCHET DRIVE
Revolutionary "
Hatchet Drive
" 160mm floating shock technology liberates the frame from traditional top-tube mounted, single-pivot suspension systems. :: Force Dispersion Technology of the Hatchet Drive design re-distributes shock forces towards the head tube, the strongest junction on the bicycle frame, and to the bottom bracket providing longevity and durability. :: Exclusively tuned suspension developed by shock engineers at Cannondale and Fox.
But the
RIZE
is the Swiss Army knife of the trail bike world. It's a bike that brings all-new metalforming technology to the industry, and combines it with carbon-fiber fabrication techniques. It uses a dreamy-riding multi-pivot suspension with 130mm of balanced travel. The means that riders can use it as a do-it-all rig, whether you're riding notoriously gnarly rock gardens in the Northeast or the gently rolling foothills of the inter-mountain West.
There you can see the
BACKBONE TECHNOLOGY
- Industry first 3D forged "BackBone" combines BB30 Si bottom bracket, lower pivot, and double-butted seat tube into a three dimensionally forged part.
- Stronger and stiffer than three separately welded pieces.
- 3D forging process properly aligns grain structure for longer fatigue life.
- One structure assures proper alignment between bottom bracket and pivots.
For more information you can check the
Cannondale web site which is one click aw
ay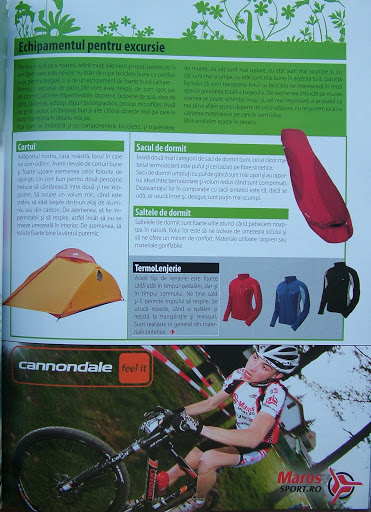 I am also proud to see myself in the
Cannondale
commercial in the same MBike magazine.
This is promoting
Cannondale
and the official dealer for Romania
Maros Sport
.
It had a pretty big impact because a lot of people and friends saw me in the magazine and congratulated me for this, but also they asked about the new
Cannondale
bikes.
So what I am waiting now is that the number of
Cannondale
owners to increase in Romania like the snails after the rain :-)
I'll keep you informed, 'til them push the pedal to the metal.